Dear guests,
due to unforeseen short-term construction work on the building, the gates of the Klosterhof unfortunately have to be closed temporarily.
On our homepage we will keep you up to date at all times. As soon as an end of the construction work is foreseeable, you will be informed here.
For the time until then, we would like to thank all our guests and would be very happy to welcome you soon again in the Klosterhof.
We are looking forward to seeing you!
Stay faithful to us!
A nice time until then 
wishes you the team of the Klosterhof
---
Our opening hours
Monday to Saturday:
12:00 to max. 24:00 o' clock
Kitchen: 12:00 to max. 23:00 o'clock
Closed on Sundays
---
Come and visit us!
Klosterhof
Restaurant with beer garden
Weißfrauenstraße 3
+49 (69) 91399000
How to find us
Menu
Dear Guest!
For a quick overview we have popular food and drinks for you here is listed directly. If you would like to have a look at our entire menu, click on one of the following links. A PDF with the German or English version of the document will open.
Outside of our menu you will also find changing traditional and seasonal dishes on our slates.
---
Our Menu
---
All information in PDF without guarantee. The current menus in the restaurant always apply.
---
Popular main dishes
---
Beef roulade – filled with cucumber and bacon
Served in beer sauce. Serve with red cabbage and potato dumplings. For Egid Quirin Asam, builder of the Benedictine abbey Weltenburg, this recipe was specially introduced into the monastery book.
---
---
Schlägler Chorherrenschnitzel ("choir master schnitzel")
Schnitzel Natur, fried in butter fat, topped with bacon slices, apple slices and cranberries, baked with cheese, served with fried egg and fried potatoes.
---
---
"The Trappist"
Trapistenschnitzel – a recipe from the mother house of the Benedictine Sisters in Tutzing on Lake Starnberg.
Baked in butter fat, baked with ham and Trappist cheese, served with French fries.
Popular thirst quencher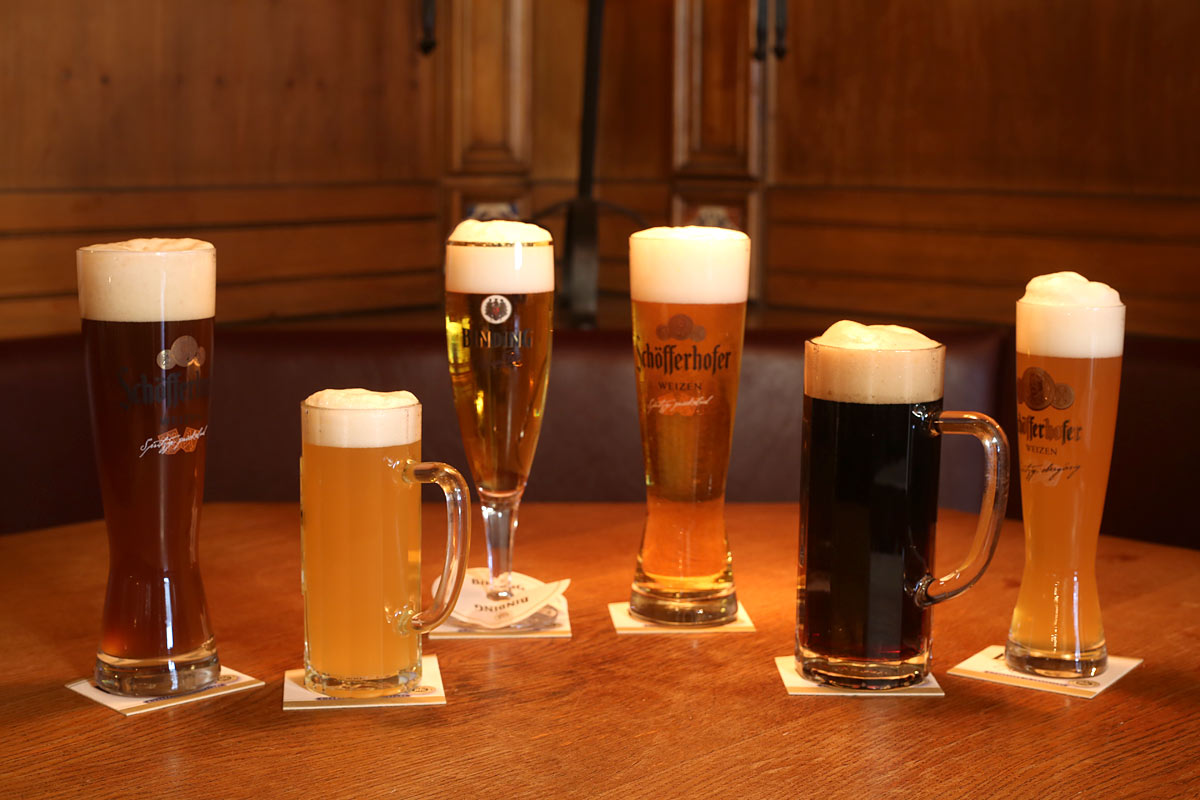 ---
Römerpils vom Fass – 0,3l
Römerpils vom Fass – 0,5l
Schwarzbier – 0,3l
Schwarzbier – 0,5l
Naturtrüb – 0,3l
Naturtrüb – 0,5l
Helles Hefeweizen – 0,5l
Dunkles Hefeweizen – 0,5l
Kristallweizen – 0,5l
Apfelwein vom Fass – 0,25l
Apfelwein vom Fass – 0,5l
Apfelwein vom Fass – im Bembel ab 1,0l
Payments & Capacity
We accept the following cards
Girokarte

American Express

Visa
Mastercard
Maestro
Diners
VPAY
Seating Capacities
Inside / Restaurant: around 55 Seats
Outside / Beer garden: around 100 Seats
How to find us
---
How to find us
The Klosterhof is centrally located between Willy-Brandt-Platz (U1-U5, U8) and Römerberg and Paulsplatz. It can therefore be easily reached by public transport (via Hauptwache: all S-Bahn lines and U1-U3). Numerous parking spaces are available in the surrounding car parks just a few minutes' walk from the Klosterhof.
Thank you very much!
Your team from Klosterhof
Reservations
Any reservation request is only considered accepted after our binding confirmation.
---
Table reservations by phone at +49 69 91 39 9000 (short term, same day) or by mail at info@klosterhof-frankfurt.de (only for long-term dates)
We are happy to cater for groups of up to 10 people. Larger groups only on written request.
---
Beer garden
According to the season we only reserve the tables in the restaurant, our garden does not provide rain protection in bad weather.
If the weather is unexpectedly nice and we are able to open the garden, you can of course look for a free table in the garden yourself. This is optional for all our guests
---
---
Since 1936
Since 1936, the "Klosterhof", directly at the old Carmelite monastery, has been a hearty place to fry and cook according to the old custom. In the beautiful wood-panelled ambience, you can enjoy a freshly tapped "Klosterhof Naturtrüb", a "Schwarzbier" or a fresh glass of Rheingauer Riesling and relax in a very cosy atmosphere.
Even after the meal, the "good monk" does not leave your side. A number of monastery liquors and liqueurs from Andechs, Furth or St. Gilgen ensure a feeling of well-being after the meal.
---
Linus Müller 1936
At the entrance to Seckbacher Gasse 14, in the same place as today. Founded in 1936 by Linus Müller as "Klosterhöfchen", one of the few apple wine taverns "Hibbdebach", i. e. north of the river Main. Most of the apple wine farms are still located almost all of them on the Sachsenhausen side, i. e."Dribbdebach", south of the river Main. The immediate vicinity of the historical Carmelite monastery obviously helped to find the name. With the opening of the brewery of the first barrel of "Binding Römer Pils" in 1939, freshly tapped beer was also offered in the "Klosterhöfchen" – contrary to the Frankfurt tradition of holding only bottled beer in apple wine taverns. The clientele responded positively, and the close business relationship with Frankfurt's largest beer brewer, which has continued to this day, had begun.
---
Here, in fact, it has been served again
After the destruction of the war, Otto Baier took over the economy and built the still existing house in the Seckbächergasse/corner of Weißfrauenstraße from the ruins. In the post-war years, the new building was even converted into a hotel/pension.
---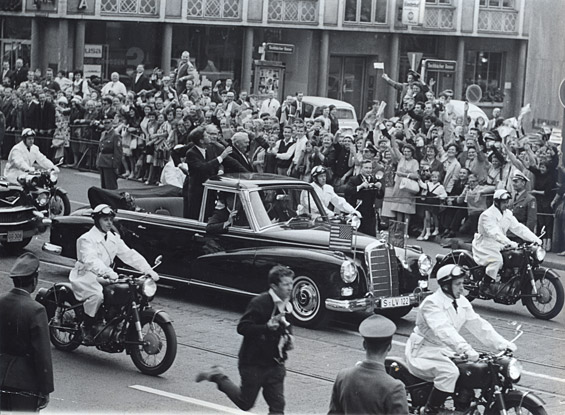 A touch of world history in seconds
On 25 June 1963, John F. Kennedy, Ludwig Erhard and the former Prime Minister of Hesse, Georg August Zinn, passed by the monastery courtyard on their way from the Römer in the direction of the main station. In the picture you can even read the name above the still existing entrance.
---
Historical roots with reference to monastic life
After many turns of the 70s and 80s, in 1998 Uta and Andreas Carl took over the inn, now called "Klosterhof". Refocusing on the roots of the historical environment, a careful reference to monastic life was created. Close links to the active Benedictine monastery "Gut Aich" in St. Gilgen, helped us to find appealing recipes and to provide our guests with extraordinary products from monasteries.